Omar Medina, Leonardo Prieto & César Puente
17 oktober 2021 16:15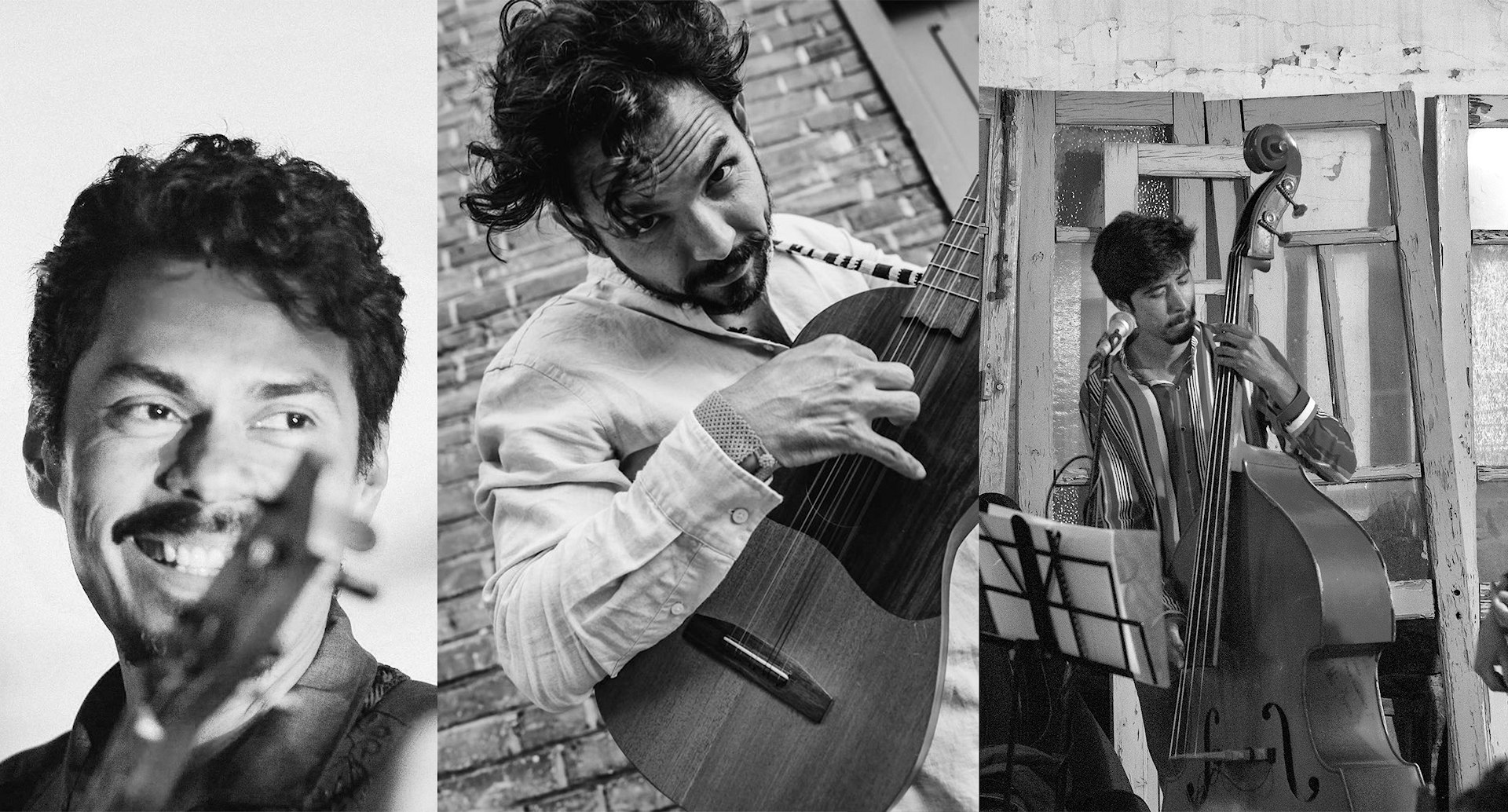 Son Jarocho at Huis De Pinto
Omar Medina, Leonardo Prieto, and César Puente play traditional Mexican folk music: Son Jarocho, the musical expression from Veracruz, in the south of Mexico. This music is the result of the blend of three different cultures: Indigenous, Spanish and African. Music from the coast full of rhythm and joy, but also melancholia. Son Jarocho speaks through folk poetry, singing, dancing, and its unique instrumentation what has been learned from mouth to mouth in Veracruz at the south of the colourful, vigorous and stirring Mexico.
Omar Medina (Voice, jarana, requinto) is a Mexican guitarist, composer, and producer based in Amsterdam. With a strong background in jazz, traditional Mexican, free improv, and contemporary pop music, Omar has developed a sense for revisiting diverse music styles, stretching them through structures that are sometimes beyond a traditional musical approach. He is a musician of contrasts, he either plays the music of the region he comes from, or the music made for a theatre play, but also he composes and perform music made for acoustic and electronics musical instruments. Omar Medina has a BA in Jazz guitar at the ESM in Mexico City and a MA in Live Electronics at the Conservatory of Amsterdam.
Leonardo Prieto (voice, jarana, leona) is a composer and multi-instrumentalist from Mexico City based in Rotterdam since 2016. His work goes from very academic environments (classical music) to world music.
Because of this you can find him either composing for an orchestra or playing with a latin band. He has a variety of projects where he explores different aspects of his music making like: composing, playing piano, jarana, requinto (Mexican guitars), tres cubano or singing and also collaborates with other artists. Leonardo is also a docent and project leader/planner.

César Puente (Double bass, voice, leona) Hailing from the desert city of Matehuala in San Luis Potosí, México, César grew up playing many different string instruments, before settling on the double bass when was 18 years old. César is a multifaceted musician, performing mainly jazz music, but his taste includes many other genres such as classical music, latin, pop, rock, and Mexican music. He has studied with Frans van der Hoeven and Clemens van der Veen during his time at the Conservatory of Amsterdam (CvA), and also benefited from the guidance and inspiration of Ernst Glerum and Ruud Ouwehand. He has also complimented his studies in Amsterdam by taking lessons and workshops with teachers from Jazz at the Lincoln Center, such as Yasushi Nakamura, Matt Brewer, Barry Stephenson, John Clayton, Hans Glawischinig, among others. Before relocating to Amsterdam César was a participant to the 1st, 2nd and 3rd advanced workshop for Jazz Performers at the National Arts Center (Centro Nacional de las Artes) in Mexico, hosted by DeQuinta Producciones and he completed his studies in the Jazz program at the Centro de las Artes San Luis Potosi in 2016. Currently, César works as an independent professional musician and is involved with various projects, developing his own composition and arranging style in which he fuses elements from Latin American pop music, traditional jazz repertoire, and is enjoying his experience of the European Jazz scene.
COVID-19 regels

Reserveren met opgave van naam en telefoonummer verplicht via contact@huisdepinto.nl of 020-3700210 tussen 13.30 en 16.00 uur.
Na 4 oktober is reserveren ook mogelijk tussen 10.00 en 16.00 uur.

Vanaf 26 september kunnen we weer 30 bezoekers in de voor- of achterzaal ontvangen. We vragen de bezoekers om een geldige QR-code te tonen op de CoronaCheckapp of geprint op papier.

Afzeggen? Graag bijtijds in verband met het beperkt aantal beschikbare plaatsen.
RESERVERINGEN OPHALEN UITERLIJK EEN KWARTIER VOOR AANVANG.

deur open: 15.45 uur | aanvang: 16.15 uur
toegang € 5 (alleen contant, geen pin) | kinderen € 2,50 | vrienden gratis