Live in between
17 december 20:00 - 22:30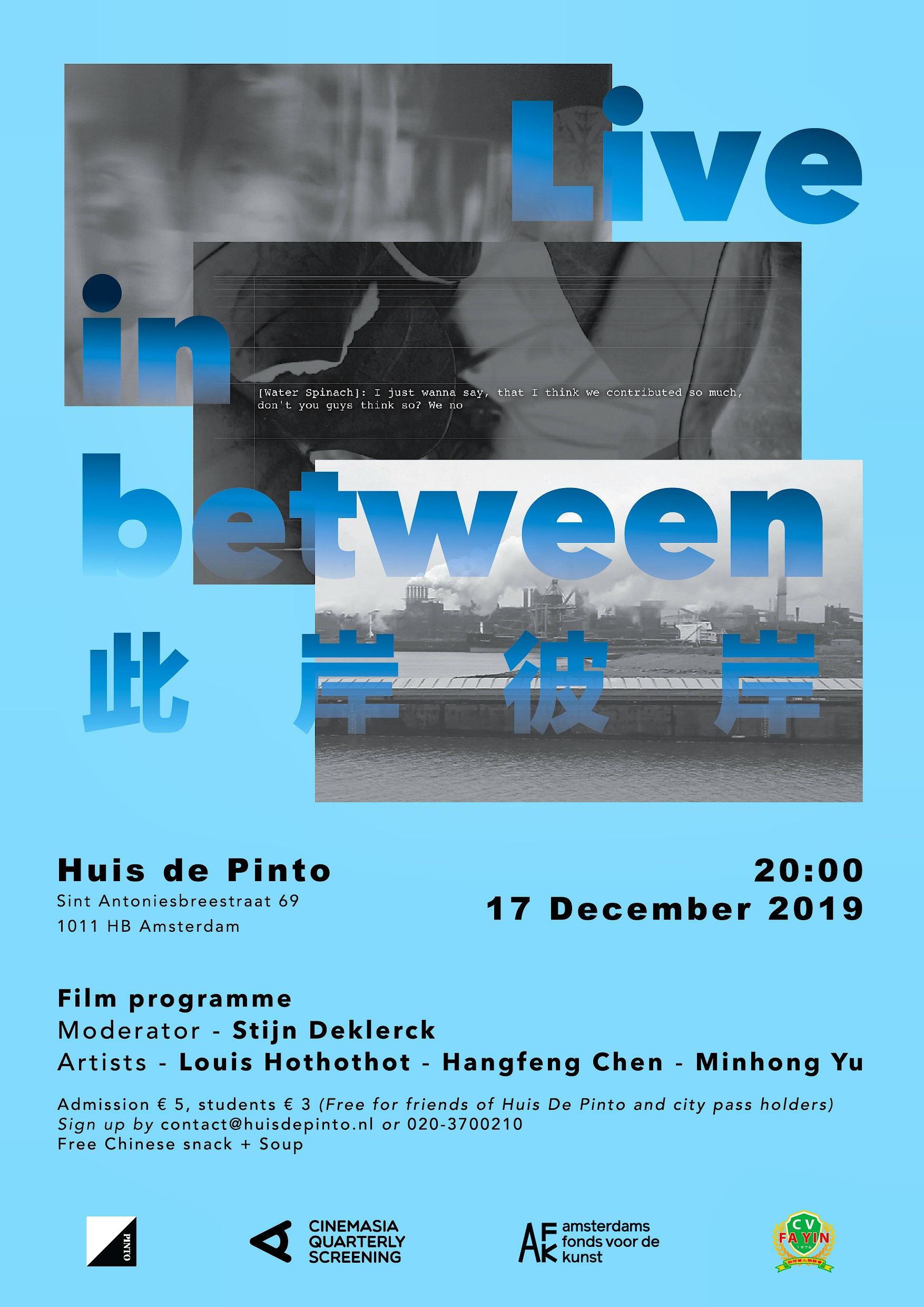 I see you on the shore and you see me on the shore. Living in two worlds and two systems, trying to start a dialogue between us. How can we find a connection, how can we find a balance, how can we make a common world? The boundary is between the self and the other. The Cold War is not done yet and a new Cold War has started.
The three Chinese artists currently live and work in the Netherlands. They will share the stories of how to find a position as immigrants, outsiders, invaders and lovers. They would like to share their unique graphic design language and poetry in cinematography.
20.00: Mr. Hu
20.30: Tai Bai Yu Tou & Invasive Species
21.00: Chinese snacks break
21.15: New Hometown & Breathe
21.45: Q&A
Moderator: Stijn Deklerck
Artists: Louis Hothothot, Hangfeng Chen, Minhong Yu
Walk-in with coffee at 19.30 | Film starts at 20.00.
Admission € 5, students € 3, free for friends of Huis De Pinto and city pass holders
Sign up by "contact@huisdepinto.nl" or "020-3700210"
The food is sponsored by Chinese Vereniging "FA YIN" Cultuur en Sport Zaken.
More information:
Mr. Hu:
"Mr. Hu" is a portrait-film, a homage to a man, a story about life like many others. Due to the conflicts in the Middle East, the collapsing economies and the fluctuating oil prices, Mr. Hu immigrated from Hong Kong to The Netherlands. In the following decades, forced to run and hide because his illegal status, in conflict with the foreign political regimes, he makes some money by fixing clocks, by caving (a traditional Chinese art craft) and by painting. Now, when he looks back on his life, he says, "I am a man with no roots, therefore I like to paint trees". His loneliness and desire of some sense of belonging are reflected in his art. Unfortunately, his family, his wife and his kids don't accept his artistry as a respectable way of making a living. History, just like the present, is still cruel, complex and unforgiving. The US-China trade war is causing more and more danger in the world. Will there be a new immigration wave?
Tai Bai Yu Tou:
The name is from a popular dish in China, a broth made with Silver carp (Bighead carp / Asian carp) and tofu. The cinematographic language is interweaved together by two scenes: one pretends to be instructional of how to prepare and cook the fish. It focuses on the eating technique of the actress who involves using teeth in close collaboration with tongue and lips to strip the fish bones clean of flesh. The other is filming the striking news on TV, which shows how the so-called "Asian carp" is considered one of the most dangerous invasive species, currently at the centre of an ecological disaster in America.
Invasive Species - The Vegetables:
The piece exposes the shifting nature that takes place when holistic elements become manipulated and tainted due to the regulation of public measures, or the lack thereof. Exemplifying their state of corruption, the verdant inhabitants of the garden (water spinach, pepper, bok choy, eggplant and carrots…) can only communicate through profane and defiled conversations that are only distinguished as incomprehensible noise. The schizophrenic and disjunctive animation is thus mimicking the invasive presence of the altered as the Other. (Text by Julie Chun)
New Hometown:
Minhong shows the polluting factories of her hometown and her new overseas residence as contributors to a beautiful landscape, where air, smoke and water are the links for transportation between these two continents. Smog is the invisible medium that connects these otherwise distant worlds softly together. She grows up in the neighbourhood of the smog factory, smog connects her childhood memories with reality.
Breathe:
With the use of flags — red, white and transparent — Minhong Yu shows two opposing power structures, asking herself where in between she belongs. Minhong evokes existing systems of power, resignation and openness and questions cliché notions of identity. Transparency can be the perfect camouflage. Breathe confronts opposing forces, and proposes a dialogue between poetry and rigid socio-political structures, centralisation and decentralisation and opacity and transparency.
About Louis Hothothot:
Louis Hothothot (Louis Yi Liu) is a young film and video artist, and winner of the 3 Package Deal Young Talent 2018-2019 prize in Amsterdam. Louis was born and grew up in China. He studied graphic design, animation and video art at the China Central Academy of Fine Art in Beijing. He enrolled in the Master of Fine Arts program at the Dutch Art Institute in 2012. Between 2015 and 2017, Louis studied at the Netherlands Film Academy in the Master of Film program. He works as a multimedia artist combining video art, performance and graphic design. His research deals with the subject of memory, identity, emotion and pain.
About Hangfeng Chen:
Born 1974 in Shanghai, Hangfeng Chen currently works and lives in Shanghai and Amsterdam. Trained as a painter, he obtained his BA from the Fine Arts College of Shanghai University. He works with drawing, installation, performance and photography and moving images. His works often deal with issues of surrounding commercialization, environmentalism, globalization and cultural transmutation. He sees the artist as a present-day incarnation of an ancient philosopher, artisan and literati. Recently, he is fascinated by the history of transnational capital; colonial conquest; the travel of commodities such as porcelain and tea between China and Europe, and the impact of this trade on geopolitics. Such as the issue of how Invasive Species reflecting the problem identified in a globalized contemporary world.
About Minhong Yu:
As designer and artist raised and educated in China and based in Amsterdam, Minhong Yu graduated in 2013 from the China Central Academy of Fine Art in Beijing and obtained her master's degree in design at the Sandberg Instituut, Masters Rietveld Academy in 2016. Her work is concerned with visibilities and invisibilities relating to social issues in this digital world and ranges from video installations to spaces which explore representations of power. Right now she is organising a dialogue on new ways of visual communication under the I YU Studio she founded in 2016. Minhong Yu stands simultaneously in two worlds and two systems, trying to start a dialogue between them.