Berlinde Deman & Keefe Jackson + Ziv Taubenfeld
10 oktober 19:30 - 22:00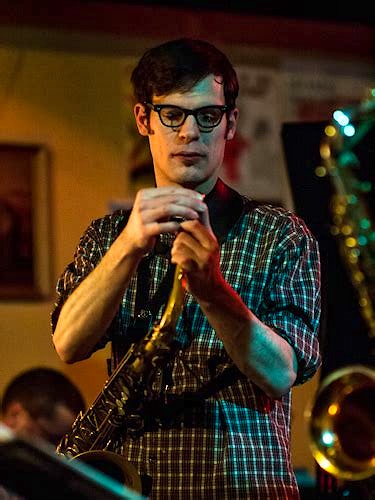 'Muziek bestaat niet. Het is hooguit een illusie' (Misha Mengelberg)
SET 1 S O L O
BERLINDE DEMAN serpent, electomica & tuba
https://www.jazzradar.com/interviews/sterke-vrouwen-/sterke-vrouwen-berlinde-deman/
https://hinah.bandcamp.com/album/hungry-mouth-tree
'In mijn improvisaties ga ik op zoek naar de beperkingen van mijn instrument waarvan de oorsprong teruggaat op de 16e eeuw: de serpent. De serpent is een voorloper van de tuba zoals wij
die kennen. Het verschil is dat de serpent niet op dezelfde manier reageert als de tuba, die als technich 'perfect' wordt gezien door bijvoorbeeld de uitvinding van de ventielen en doordat de 'pitch' (toonhoogte) controleerbaar is.
Bij de serpent is zowel de klankvorming als de intonatie een grote uitdaging. Maar dat maakt het net
interessant. Spelen met de kleuren van zo'n instrument is inspirerend. De tuba leerde ik kennen in een klassieke context, maar in het improvisatorische genre is het loslaten van academische perfectie juist van groot belang.
Mijn solo set wordt een improvisatie waarbij gespeeld wordt met de materialen van beide instrumenten en de verschillende technische beperking van beide instrumenten. Bovendien wil ik met de serpent met loops/electronic de grenzen van de traagheid aftasten, ver weg van de drukte van het alledaagse.' Berlinde Deman.
SET 2 D U O
KEEFE JACKSON tenor sax
ZIV TAUBENFELD bas-klarinet
Keefe Jackson geldt als een van de steunpilaren en internationale vertegenwoordigers van de
eigenzinnige impro scene in Chicago. Begin dertiger Ziv Taubenfeld is actief in Nederland en daarbuiten in verschillende groepen zoals KuhnFu en het Xavier Pamplona Septet.
' My musical approach, while influenced by many musical giants and traditions from both the West and elsewhere, is by necessity even more influenced by peers and collaborators. Most of the work of the last few years has been concerned with the interaction of composition and improvisation, with an emphasis on individual musicians. A main point in this approach has been continuing Duke Ellington's task of writing music with specific improvisers in mind, with attention to how they will complete the pieces, and how to carry this seemingly simple-sounding phlosophy forward into the music today.' Keefe Jackson
'For me the beauty of improvisation is that it touches two opposite approaches at the same time. Like most truths it has a duality that is part of it's definition. What I mean is that from one hand during improvisation we should allow ourselves to flow without any analytic thought. On the other hand, we are in an environment (especially when improvising with other musicians) where the music is already happening and one can only choose his way around that context (defined by the freedom of the others).
In my opninion, changing what other people do already enters the compositionl reality. I find that how we deal with a given context is at the core of improvisation and that exactly this process of reflection is what allows us as humans to grow with the music.' (Ziv Taubenfeld)
<><><><><><><><><>><><><><><>
Foto credit Berlinde Deman – Jan Rouwens.
Volgende edities:
14 November
Solo set door Chris Pitsiokos/altsax
Trio set met Oene van Geel/altviool & Pau Sola Masafrets/cello & Phillipp Ruettgers/slagwerk
12 December
Solo set door Etienne Nillisen/snare trommel
Trio set met Henk Zwerver/giutaar & Wim Janssen/slagwerk & Aaron Lumley/contrabas
DATUM EN TIJD Maandag 10 oktober | Aanvang 19.30 uur | Zaal open 19.00 uur | Entree € 7,00 - € 20,00 (naar draagkracht) | Stadspas met groene stip € 5,00 | Vrienden van Huis De Pinto gratis
KAARTVERKOOP IN HUIS DE PINTO Tijdens openingsuren overdag zijn ook enkele kaarten tegen contante betaling verkrijgbaar
bestel kaartjes